At Original Berlin Tours we believe you deserve the opportunity to have the best experience in Berlin and we would like to extend a warm welcome to you. With a full range of tours including our free walking tours of Berlin, day trips from Berlin and our Berlin night life tours travelers and holiday makers of all ages can discover the wonders of the city by day or Berlin night life with our fun guides.
Take the strongest first step with Original Berlin Tours to experience the vibrant culture of Berlin
MEET SOME OF OUR TOUR GUIDES:
Jamin
Hey my name is Jamin and I am an Australian Expat. November 2012 was supposed to be an apocalypse and I wanted to spend the end of the world somewhere new so I came to Berlin. When it was clear the world wasn't going to end I needed to start working again so I joined Original Berlin Tours and started the alternative walking tour.
My goal is to show travellers (like myself) a fun and social experience of the true alternative scene in Berlin at a truly affordable price.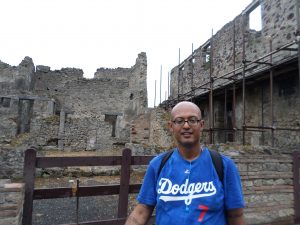 Miguel
Miguel comes from California, U.S.A., he studied History and Political Science, and loves to read. He has been living in Berlin for over 3.5 years. Miguel is bilingual in English and Spanish and is still improving his German. Miguel has been a tour guide for 3 years and he really likes showing the city around. He also loves to meet and talk to people from all around the world. Miguel finds Berlin to be a very fascinating city and is eager for you to enjoy it too.
Daphna
After a random decision to start travelling, I found myself in Berlin and fell in-love with the city. About two years later I packed up a suitcase and moved from Israel to Berlin. It's been three years since I moved to Berlin and the city keeps on surprising me on a daily basis. I love exploring the city and hanging out in parks and lakes but above all I love discovering new murals and tags throughout the city and share my love to the city with travellers who want to find a different side to the city.
Eric
I was born in the US and raised in Hong Kong. A musician who came to Berlin in 2014 for its super vibrant music scene, a right choice to make. Not only am I constantly amazed by the music in Berlin but also the alternative and street cultures in the city, now I would like to present this side of the city to all the travellers who are as curious as I am about the cool side of the German capital. Hope to see you in one of the tours.
Elisa
I'm Elisabetta from Italy, affected by nomadism I have finally stopped in this multicultural, thrilling and stimulant town where I found the place where I feel home. As a musician, it was the rich experimental art scene of Berlin that brought me here, but at the same time this city has re-lighted my passion for visual art and Graffiti. My love affair with Street Art started long time ago when I was studying Fine Arts (painting) in Italy: while I was officially learning sophisticated medieval painting techniques I was also hanging around with my hip-hop friends, crazily seeking any kind of Graffiti, Tags or Murals. Many years later, Street Art knocked at my door again and I can now enjoy it touring with my guests! Street Art helped me to understand the soul of Berlin and now my goal is showing you what I like to call "the Invisible City of Berlin", sharing with you a new way of being travellers: enjoying magic corners and hidden paintings, recognising techniques and the different touch of the artists.
Ben
When not working as a tour guide, Ben is probably drinking too much at a gig somewhere. Originally from the UK, he has been living and playing music with his band in Berlin since 2010, after accidentally falling in love with the city like many before him, He now enjoys hanging out at the Maybachüfer canal market, busking and playing football with his international team – SFC Internazionale Friedrichshain.
Niels
Hey! I'm Niels – a young and energetic pub crawl guide. I'm born and raised in Denmark, but in the last couple of years I've been traveling all over the world, before finally settling down in Berlin in March 2013. At first my plan was to spend only a few months in the German metropol before moving back to Denmark … well, it turns out that that plan has failed! The thing is that Berlin has everything it takes to be the most perfect city on earth: it is a mecca for history nerds, an inspiring play field for all kinds of artists and last, but
not least, offers Berlin the most intense and diverse nightlife you'll ever know.
All these things have made me stay in this incredible and multicultural city, where I also can stimulate my interest of languages and the diversity of such. So come and join the Original Berlin Tours Pub Crawl, if you wanna have a fun time and learn to say 'cheers' in various weird languages – Prost!
Dave
I am Dave from Wales, I got fed up with hunting dragons so I was looking for more exciting career opportunities. After being accepted on a 3 month internship in Berlin working for a Design company, I decided I really wanted to stay for as long as possible.
I fell in love with the city's urban streets, night life, graffiti and the multicultural diversity. The city is full of overwhelming history and Unique architecture and people. I love meeting new people and going out so working with original Berlin tours was the perfect job for me.