The Hungarian capital is one of the most beautiful places to visit. It is fondly referred to as the Paris of the East. Budapest offers visitors a lot of cultures, stunning architecture, and entertainment. While you can have a lot of fun in Budapest on sightseeing tours, you wouldn't have gotten the whole Budapest experience without getting a taste of what the nightlife has to offer.
Budapest is a city with a lot of buzz at night time. Numerous parties pop up in different locations and leave you spoiled with options. But what better way to experience nightlife in a city like Budapest than a bar crawl? The Hungarians have a great drinking culture which is readily seen in Budapest. There are several cocktail joints, ruin bars, and classy wine bars to choose from.
A Budapest bar crawl is a fun and exciting way to spend your night, especially if you are with friends. Whether you are on vacation in Budapest or just around for one night, taking a tour of a few of the city's watering holes should be on your mind. Read on to learn the key things you need to know to enjoy your Budapest bar crawl.
Why should you consider a Budapest bar crawl during your visit?
The idea behind a bar crawl is to hop from one bar or club to another at different predetermined points within one night. It is done in a group and can be organised by friends or by a tour service. Budapest is not short of exciting bars and clubs for you to choose from.
Budapest is a city rich in culture and creativity. It is also the home of a number of 'ruin bars'. These bars and pubs used to be abandoned flats, warehouses, and factories. Creative residents have transformed them into a buzzing, worthy nighttime destination.
Hopping from bar to bar in Budapest is a low-budget activity you can embark on with your friends or tour group. It will surely bring you a night of fun and memories while also getting to experience the city's beauty at night. A bar crawl is one of the best ways for you to experience Budapest's unique and vibrant nighttime scene. If you're wondering "are bars open on new years eve?" Yes! Bars in Budapest are open all year round, all day! There's no dull moment.
Best areas in Budapest for a Pub crawl
Perhaps one of the most beautiful things about Budapest is that there is no 'it' location for having a great night out. The city has multiple nightclubs and watering holes to meet different tastes. In Budapest, it is easy to find many bars to have a fun time. It doesn't matter if you are looking to drink craft beers, cocktails, pálinka, or wine. The following areas will ensure that you are saying 'Egészségére' (the complex but fun way Hungarians say 'cheers') in no time. Whether you're a fan of ruin bars or prefer more classy rooftop bars, there is something for you in Budapest.
The party district
The large party district in Budapest is formed by the union of the 6th and 7th districts. Lovers of ruin bars would undoubtedly want to be here because this district became the birth and rise to the popularity of the ruin bars. Dotted with pubs, dance clubs, and lounges, it is a place you must be if you are looking for a memorable bar crawl experience in Budapest.
Downtown Budapest (5th district)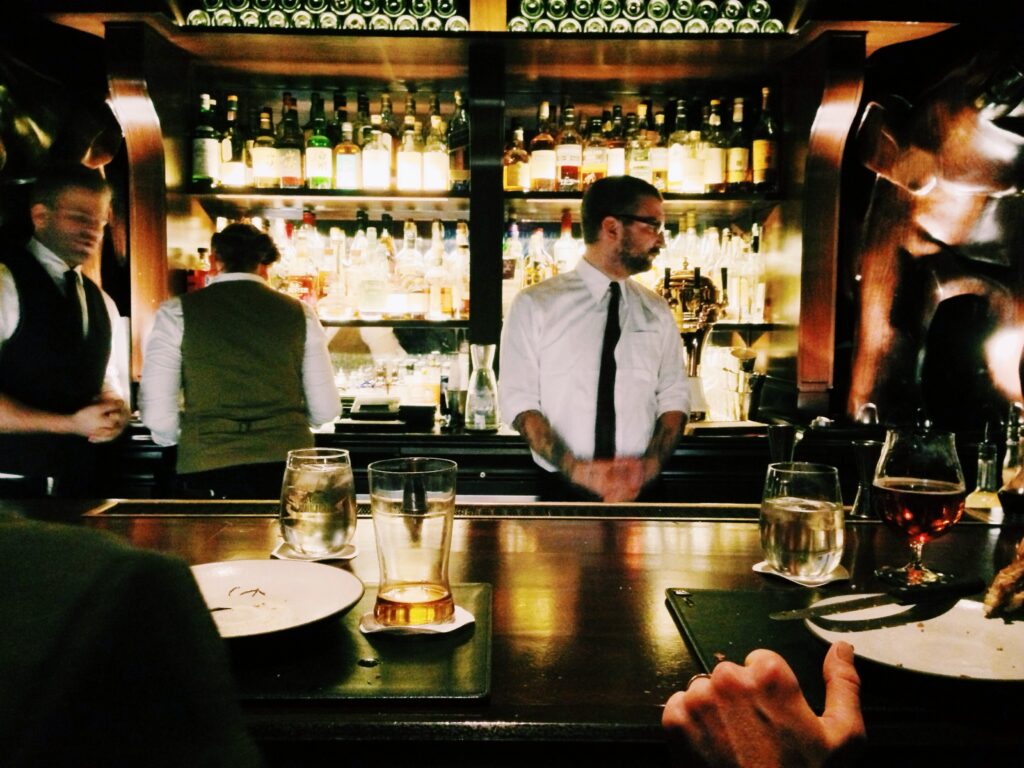 Located in the city's heart, Budapest's 5th district is one of the major tourist attractions. It is the city's cultural and commercial center and is one of the more expensive areas. However, this fancy district provides tourists with many bars and clubs where you can have a good time till daybreak! Here, you can enjoy wine, cocktails, and beers and also cap the night off with some dancing during your pub crawl in Budapest.
Gozsdu Udvar
This courtyard passage between Kirali and Dob streets is a wonderful mixture of culture, cuisine, and entertainment. Within its walls, you can find a good number of restaurants and bars on either side of the passage. It is a destination for partygoers, especially on the weekends. This excellent cultural heritage site is a great place to get a great feel of Budapest's cocktail bars and ruined pubs.
Popular clubs, bars, and restaurants in Budapest for a bar crawl
Szimpla Kert
Set up by a few young Hungarians around 2001 in Budapest's 7th district, Szimpla Kert is the first ruined bar. The bars are decked out with mismatched vintage furniture and decorated with fairy lights and graffiti. There is also an out-of-service Trabant in which you can also sit and have your drinks. It is a busy bar and is usually very crowded during the weekends. It is a great place to enjoy delicious cocktails and get a bite to eat if interested.
High Note SkyBar
The High Note SkyBar is the classy rooftop bar of Aria hotel in downtown Budapest. It is one of the top 10 rooftop bars in the world. When you visit this bar, you can enjoy its long list of fine wines, great cocktails, and an excellent selection of bar foods. You will enjoy all these while being treated to the awe-inspiring rooftop view of Budapest.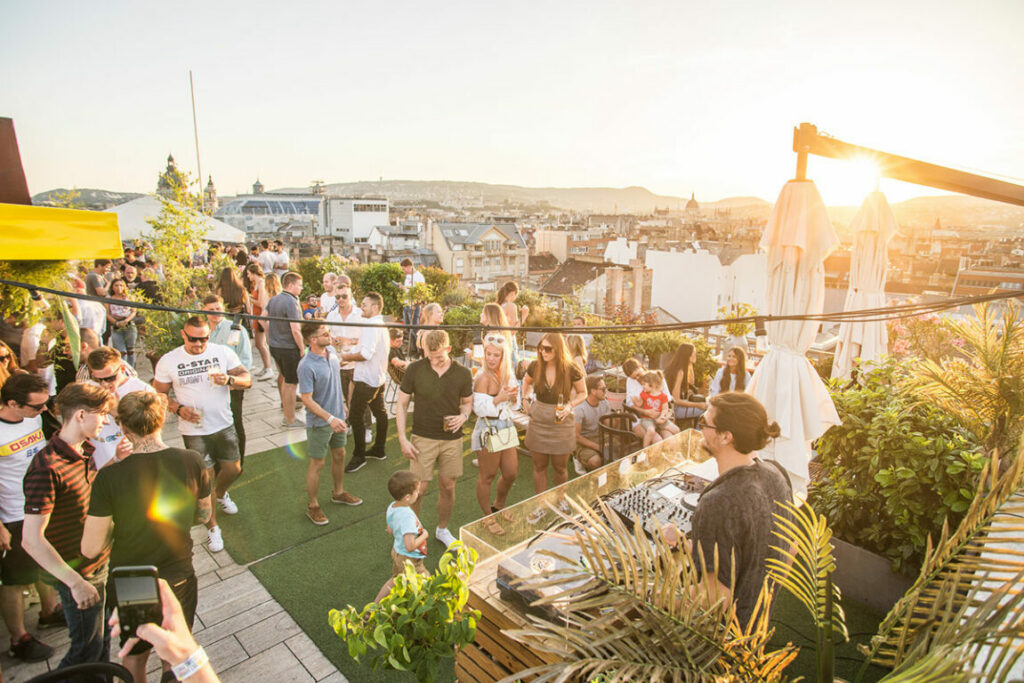 Ötkert
Ötkert presents you with Budapest nightlife at the highest level. It is a busy bar and courtyard club, which gives off laid-back vibes. The club has three dance floors in an open area, allowing you to enjoy the night sky while you party. The DJs play music from different genres, so there's a little something for everybody. When you are not partying, you can also enjoy a drink while taking in the atmosphere. The club is open from 11 pm to 5 am every day except Monday.
Bar 360
The bar 360 in Budapest gives you a wonderful above-ground experience. It is a rooftop bar that gives you one of the best views of the skyline in Budapest. It is one of the highest buildings on Andrássy Avenue. This makes it the best place to get a perfect view of St. Stephen's Basilica, the Citadel, the Parliament, and all of Budapest, really. While relaxing and enjoying the view, you can also select from an extensive list of signature and classic cocktails. Other drinks like gin, rum, vodka, tequila, and whiskey are also on the menu for you at bar 360.
Peaches and Cream Club
Peaches and Cream Club is one of the most popular nightclubs in Budapest. If you're looking for a club that will make you fall in love with the nightlife, this is the club for you. This is the perfect spot for you to end your bar crawl with a fun time dancing and singing along to the music being played by the DJs. It is sure to leave you with wonderful memories.
Szomszéd (Spritz Bar Gozsdu)
This is one of the bars in the Gozsdu courtyard, and it is the first and only Aperol bar in the location. The vibe in the bar is great and you can enjoy a variety of drinks at Szomszéd. Aperol-based cocktails, spritzes, classic cocktails, premium spirits, and beers are on the menu here. It is guaranteed to give you a pleasant drinking experience.
What you shouldn't forget during your Budapest pub crawl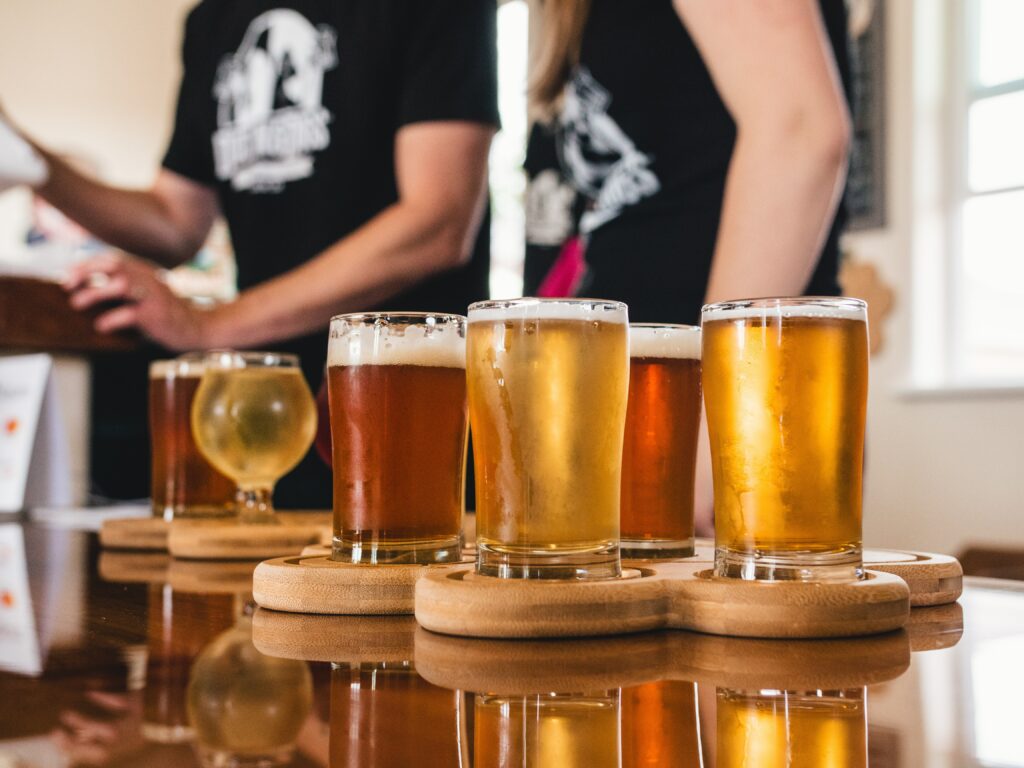 Plan your route smartly
In Budapest, there are different bar crawl services available for tourists. However, planning your bar crawl with friends, you should be smart about planning your route. It's easy for your bar crawl to fall apart due to poor planning. You should pick places with a great vibe that you and your friends can have fun in but also make sure that the ride between locations is short.
Always follow rules
Some bars and clubs have specific rules that you have to follow so you can be admitted. These rules may be centred around dress code, conduct, or level of intoxication. It is essential to do your research so your plans can accommodate the rules that they have set. If you fail to follow the rules, your plans for a fun night out will be killed.
Pace yourself
When on a bar crawl it is possible to get too excited at the prospect of having different drinks. It would help if you remembered that you and your group were trying to move through different locations, so you wouldn't want to get drunk too early. It is a good idea to have only one drink at every stop. This will allow you to enjoy the experience.
Conclusion:
Keep in mind that in a bar crawl, you're moving through different locations, and you'll spend a lot of time on the move. It is essential for you to eat something after a few stops, so you don't get exhausted. Some bars serve food or snacks, and it won't be a bad idea to schedule those stops at strategic points in your trip while planning. The Original Budapest bar crawl remains one of the best in the city for a full experience! Tap Here to see what people are saying about their experience.