The existence and operation of concentration camps, for the national and foreign policy purposes, is most often associated with the German Nazis for a reason. In fact, they established a maximum of concentration camps in history of the world in a relatively short time (1935-1945). Depending on the criteria of their classification (large, medium and small, major and regional, central and peripheral) there are quite large differences in the calculation of the total number of these camps. According to one source, Third Reich had 22 large concentration camps and 165 labor camps, in March 1944. According to another, the number was much higher – 58 main and 958 branch camps, a total of 1,016. Having the number, however, is not the most important issue. More important is the fact that the Nazis turned most of these camps into a true "death factories", in which about 11 million people found death, among them six million Jews. Out of many Nazi concentration camps, one occupied unique place. It was Sachsenhausen concentration camp.
Sachsenhausen concentration camp was first opened in the summer of 1936 and was reserved for political prisoners from Ems area, some 30-40km from Berlin. Shortly after the opening the camp started to serve as a training center for SS Division officers. It can be said that it held central place in the security structure of Nazi Germany.
Right before the war, prisoners from many other stations were sent to Sachsenhausen in order to fully build and furnish it. When the capacity of the camp was expanded, manpower was used for work in war industries. According to certain information around 10 000 people were sent daily from Sachsenhausen to work in certain factories. Even the front door to the camp stood label that is attached to almost all Nazi "death factories"- work liberates.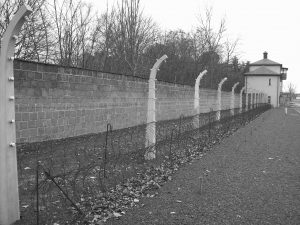 As for the equipment of the camp, it was at a really high level, the outer wall of the camp of over 3 meters in height, with electrical barbed wire, and non-stop guards assisted by watchdogs were patrolling around the camp. Escape from this death camp was practically impossible, but there were some prisoners able to find the way to escape.
There are numerous evidences of torture carried out in these camps. In addition to constant psychological torture, there were cases of systematic physical abuse that led to collapse and death of the prisoners. According to documents, it was confirmed that the prisoners were killed in gas chambers. But there were also cases of narcotizing prisoners for the sake of experimentation and observation of mental and physical reactions. The drug was administered to German soldiers in order to determine the reactions but with intention to increase performance and capabilities.
Over 200 000 prisoners passed through the camp. After Soviets entered the war, prisoners from the Eastern Front were mainly sent to this camp. Over 10% were women, and during the cruel torture out of a total of around 30 000 people who lost their lives here, more than 50% were Soviet soldiers.
Many notable individuals spent time during World War II in this camp. Some of them were: Prime Minister of the Kingdom of Norway Trygve Bratteli, Spanish Prime Minister Francisco Largo Caballero, Yakov Dzhugashvili son of Iosif Vissarionovich Stalin, Georg Elser who attempted to assassinate Adolf Hitler, and many others.
Today, the site of the infamous Sachsenhausen concentration camp is open to public as a museum dedicated to the victims of Nazi insanity.
To see Sacsenhausen Join The Original Berlin Sachsenhausen Concentration Camp Memorial Tour