At Original Berlin tours, we understand schools and groups may not have a very big budget. That's why we offer our Berlin Educational School Tours. We believe everyone deserves the chance to have an equal educational experience in Berlin no matter the budget.   We offer all schools and groups around the world the same chance with our education and group tours based on their budget. Based on your budget means you offer what you want to pay for a tour and we make the arguments to ensure you get the best quality tours Berlin and we have to offer at the best price.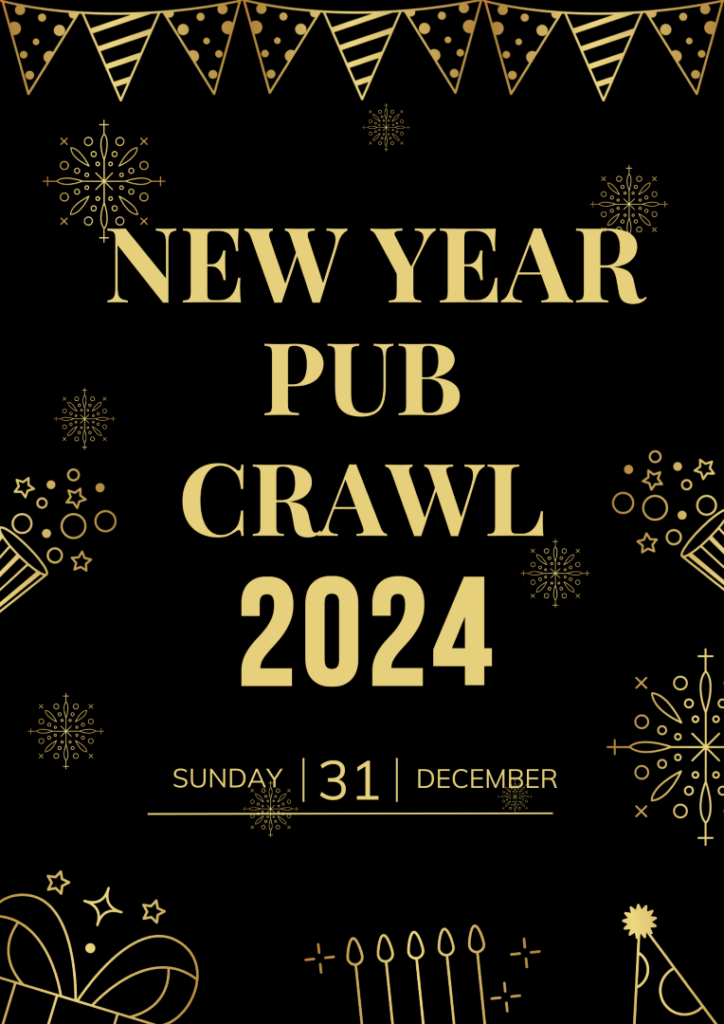 Berlin Educational School Tours
Just let us know what type of tours you require, we have some of Berlin's best and most educated guides. For this reason, we offer a full range of fun educational tours in many different areas. This covers everything from the wide-ranging history of the city to modern day Berlin.
Original Berlin Group Tours
We are set up to handle all different size groups and have no problem accommodating any budget. A sample of the tours that we offer is below. Based on group size and diversity of a program we are able to combine these tours and offer packages designed just for your group.
You can fill out this form about your group and we will get back to you ASAP
Check out our unbeatable rates for group accommodation! Book with one of our hostel partners and your tour may be FREE
get in touch with us! Contact info@originalberlintours
Original Berlin Tours we offer the following Berlin Educational School Tours
Original Berlin Discovery Tour: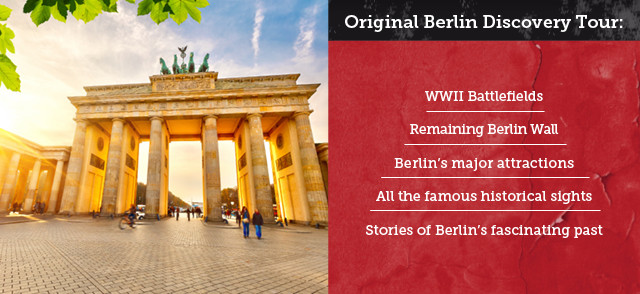 This tour is an overall walk through history in Berlin and our number one Original Berlin Educational School Tours. Our guides have worked hard to make this one of the best history tours in Berlin! We cover a little bit of everything. Major historical landmarks and some of Berlin's most well-known places. This is a great tour to get to know Berlin and its biggest attractions.
WWII Battlefields
Remaining Berlin Wall
Berlin's major attractions
All the famous historical sights
Stories of Berlin's fascinating past
---
---
The Original World War Two Berlin Tour: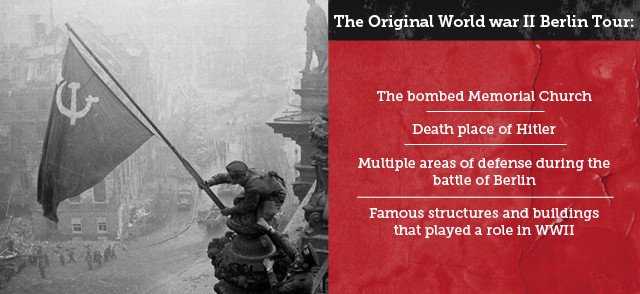 This tour concentrates on the second world war and Berlins numerous historical landmarks as the headquarters of the Third Reich. Berlin's landscape is covered with remnants of the war. It has shaped Berlin's history and its present.
The bombed Memorial Church
Death place of Hitler
Multiple areas of defense during the battle of Berlin
Famous structures and buildings that played a role in WWII
---
---
Communist Berlin the Rise and Fall:
One of the most secretive subjects in history. The cold war and communist rising took place in the back alleys and basements all over Berlin. From spying, segregation of people, to architecture and buildings. The whole city was affected by the decisions leading up to RED BERLIN
Propaganda buildings and people
Stalinallee (Karl Marx Allee)
East German secret police
Ghost stations
Embassies of four Cold War Powers
Berlin Wall Crossing Points
The East Side Gallery
The Berlin Wall and how it was run!
---
---
Original Alternative Tour: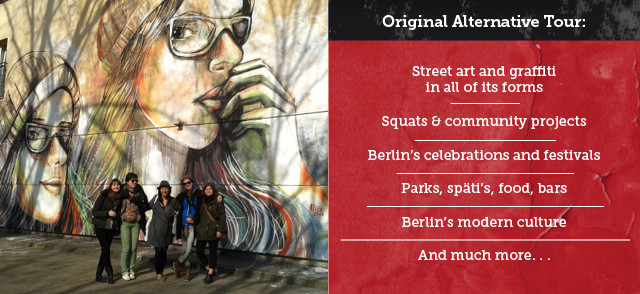 This tour covers modern-day Berlin concentrating on its open culturally diverse atmosphere, full of all kinds of art and music. This tour will walk through Berlin's thriving neighborhood addressing the special culture alive here, and why it is there.
Street art and graffiti in all of its forms,
Squats & community projects,
Berlin's celebrations and festivals
Parks, späti's, food, bars
---
---
Original Royal Potsdam History Tour: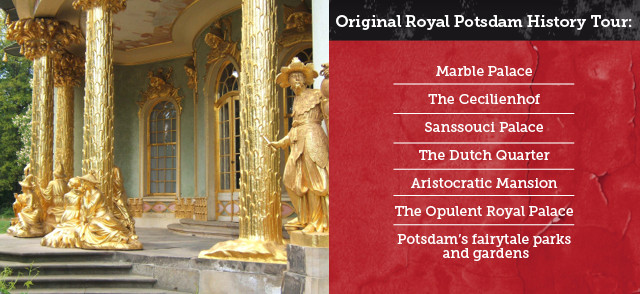 This tour takes you out to Potsdam a short trip from the city center. The landscape transforms to the fairy tale gem of the Prussian Empire. History in this part of Berlin is all around from the city streets to the massive palaces. Potsdam has played a part in almost all of Berlin's history.
Marble Palace
The Cecilienhof
Sanssouci Palace
The Dutch Quarter
Aristocratic Mansion
The Opulent Royal Palace
Potsdam's fairytale parks and gardens
---
---
The Original Berlin Wall Tour: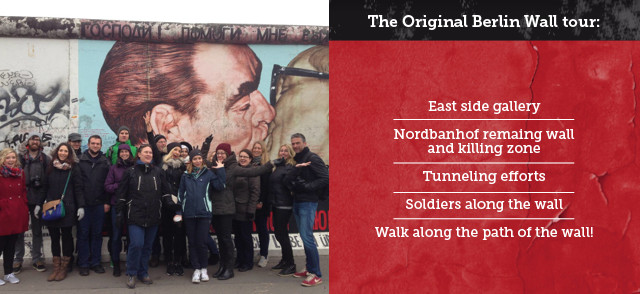 This tour we concentrate on the Berlin wall. The remaining wall can still be seen in many places and the city that grew up around this segregation will always be visible. From both the east and the west, the Berlin wall has shaped the city and the culture around it. On this tour find out how people lived on each side of the wall, how it was torn down and why.
Eastside gallery
Nordbanhof remain g wall and killing zone
Tunneling efforts
Soldiers along the wall
Walk along the path of the wall!
---
---
The Original Jewish Berlin Tour: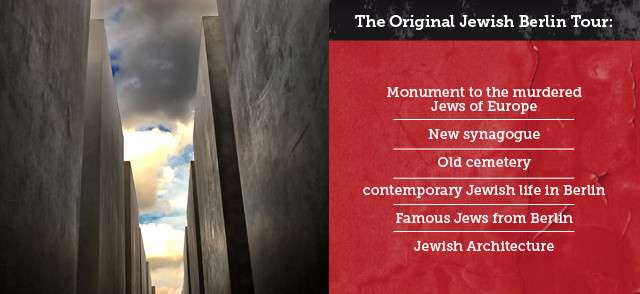 Jewish people have a rich history in Berlin and the town is scattered with historical structures and monuments. From the rich history of Jewish scholars, architects and scientist to persecution at the hands of the Third Reich, and a thriving modern Jewish community.
Monument to the murdered Jews of Europe
New Synagogue
Old Cemetery
contemporary Jewish life in Berlin
Famous Jews from Berlin
Jewish Architecture
---
---
The Original Sachsenhausen Concentration Camp Tour: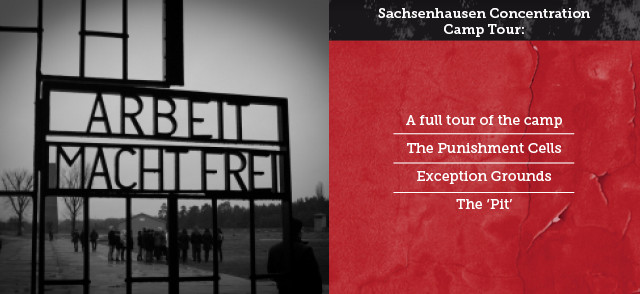 Discover the brutal history of the facility that was primarily used for political prisoners but also the administrative center of the Nazi concentration camp system. Our informative guides expose the grim realities of life and death at Sachsenhausen. Some 200,000 people were imprisoned here and subject to systematic torture and unthinkable mental anguish
A full tour of the camp
The Punishment Cells
Exception Grounds
The 'Pit'
---
---
The Original Christmas Market Tour: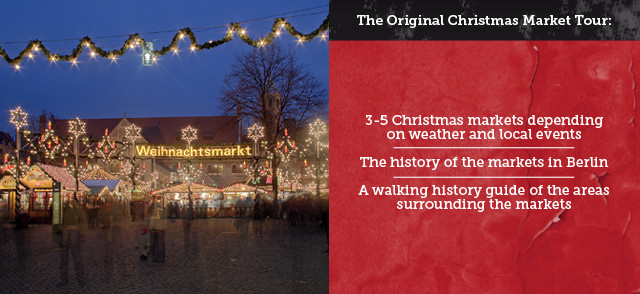 Berlin is famous for its Christmas Markets, there are well over 50 in Berlin and some are definitely better than others. From the biggest markets to the locals favorite. This Original tour mixes history and Christmas together, this is what Berlin in winter is all about.
3-5 Christmas markets depending on weather and local events
The history of the markets in Berlin
A walking history guide of the areas surrounding the markets
---
---
The Original Berlin Alternative Art workshop
This tour takes you on a short journey through some of Berlin's street art areas and introduces you to different styles of street art. We then head down to the Urban spree area where a workshop is set up. You will get to try and make your own art piece and see how it is made. You will also get to make your own piece on canvas and take it home.
This 2.5-hour tour includes
A short tour of Berlin's street art hot spots
An introduction to the different types of street art
Practice and see street art being made
create your own piece of art to take home.
---
---
Original Berlin Educational School Tours
These Berlin Educational School Tours are ideal for a starting point of how we can cater a tour based on your needs. Combine parts of some with parts of another! We are extremely flexible and our guides are the best in the business. This allows us to offer the best informational tour fit for your group!
Just give us a call +49 157 838 93416 or email info@originalberlintours.com