powered by fragnoah.de
Join us on a sailboat on the most beautiful and well known lake in Berlin Wannsee where all the wealthy and famous people live and sail.
We will meet you directly at the harbour. There is enough place for five people on the sailboat and there will be a skipper on board to give you instructions and to guide you.
The trip will be three hours. You don't need to have any experience in sailing. You may be a helper on board or become a co skipper if you have some experience in sailing.
Just come on board and be our guest! You can come alone or with your friends!
Tickets are per person and the ticket includes everything you need. Just bring your own soft drinks and sporty clothes. White sneakers with white sole are recommended. Please do not come with black sole or with heels.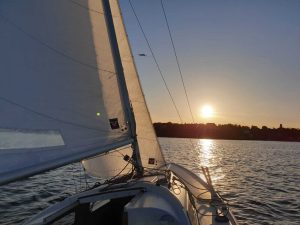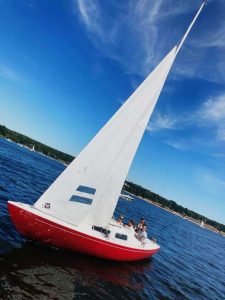 Price:
95EUR/ Person
Opening hours:
Weekdays from 17.00-21.30
Weekends from 10-14.00 and from 13.30-17.30 and from 17.00-21.00
Meeting point:
Outside Friedrichstraße S bahn startion
In front of Trains to life – Trains to death monument
Georgenstraße 14, 10117 Berlin, Germany
How to book:
Contact: info@originalberlintours.com
WhatsApp and Phone: +49 157 83893416
Minimum guests 3
Maximum guests 5