One of the things that makes Kreuzberg so famous for its street art is not just the sheer amount of art placed both legally on the walls, but also the representation of international artists. Indeed graffiti and Street artists flock to Berlin, not only for inspiration but to contribute to the artistic brand.
During the world cup in 2014 Berlin was visited by Brazilian artist Cranio. So much talent with social and political messages inspiring the art Cranio donated was a beautiful style accompanied by one of his blue skinned Brazilian natives.
Cranio's characters highlight issues in modern society while representing the indigenous people of Brazil.
Although street art is made impermanent it sucks to lose art to advertising space, but on a wall in Kreuzberg, near to the Oberbaumbrücke thats exactly what happened.
Not only did Converse plaster the streets in paste up advertising but were also responsible for the replacement of Cranio's mural for the purpose of advertising. Sure you can argue that the advertising was painted quite well and all credit to the talents of the artists that created them, but this is exactly how big corporations are finding their way into Kreuzberg; by conforming to the style. Nevertheless we are now being forced to stare at art that is trying to sell us something rather than genuine street art. This kind of advertising may fool visitors to the city but it is yet another sad sign for Kreuzberg in its fight to stay free from the influence of big business.
In the same area other works of art have been affected in the same way such as the Hour Glass mural by street artists, BLU. This mural was covered to advertise 'the hunger games'- that was replaced with an advertising campaign for AXE cosmetic products https://youtu.be/SP6pMDflfgY, and then it was the Planet of the apes franchise.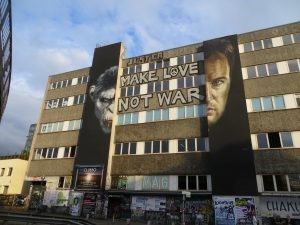 The converse advertising lasted about 2 weeks before it was vandalised but this is an important part of Kreuzberg's culture. A rebuttal from the people to the introduction of big business advertising in Berlin, an obvious lashing out of frustration over big brands like Converse paying for space that they are not welcome in.
Enough is enough, keep the brands in any part of Berlin but leave Kreuzberg out of it. We don't need or want big business in this part of town …. Lets stick to street art with real messages rather than advertising for things we are probably going to consume anyway.